---
~~~ Welcome to the LS5 Registry open to all 1970 through 1972 LS5 engine optioned Chevrolets.
---
Chevelle-related CD/DVD, books, and calendar at ChevelleCD.net
International 1970~1972 Chevrolet LS5 Registry & Showcase

LS5 Chevrolets around the world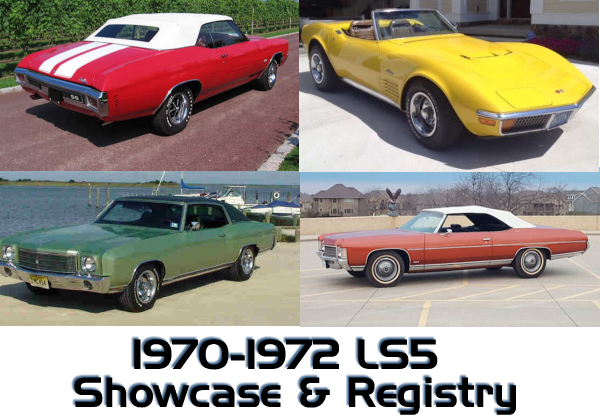 Dedicated to the showcasing, documentation, preservation, and history of
the LS5 Chevrolet Engine Option

Previous LS5 Registry Registrant with photo
June 10, 2021

Newest LS5 Registry Registrant with photo
June 30, 2021
A Certificate of Registration is available for purchase of your car similar to the examples above.
Order yours here!
Add your LS5 Chevrolet to the showcase
Update: April 12, 2018
The LS5 Registry is expanding its membership to include 1970 through 1972 Corvettes and full-size Passenger Chevrolets.
Anyone with a documented RPO LS5 Chevrolet is encouraged to submit the data requested on the contact form. No owner's name, address, or email account will be published unless they so desire. All personal data of this type will be kept in a database. Anyone requesting such data will have their request forwarded to the current owner on file. If they wish to respond, it will be up to the owner. I will only pass along the request. The LS5 Registry is dedicated to preserving the history and heritage of these cars.

LS5 Chevrolets registered in 2021



January 19, 2021

February 2, 2021

February 3, 2021

February 4, 2021
July 2021 Calendar Car

March 2, 2021

March 2, 2021

June 8, 2021

June 10, 2021

June 30, 2021
Parade of LS5 Chevrolets registered in previous years by date
Disclaimer:
Data presented in the tables are to assist in verifying the sales point of origin, colors, and transmission type for the LS5 Chevrolets from a given plant and not to validate or authenticate a specific vehicle. Where applicable, and with consent from the present owner, his/her name will be noted. If the owner does not wish to be known, their personal information will remain on file with the LS5 Registry for future use and correspondence and will not be publicly released.
LS5 Chevrolets in this registry have been known to be sold by dealers referencing them being in this registry. While this is often true (if they were not registered I would certainly call them out on it), they sometimes are deceived by their consigned sellers, stretch the truth a bit or don't tell the full story. If you are considering buying an LS5 Chevrolet that's advertised for sale and the seller notes it is in the registry and you have questions, please do not hesitate to write me with any questions. I may not have a lot of answers you're looking for but I may have. I'm sure if you're willing to spend the $75,000 - $125,000 many of these cars command, you'll want to do your research.


Sample 1970 Standard Certificate



Sample 1970 Custom Certificate


Sample 1971 Standard Certificate



Sample 1971 Custom Certificate



Sample 1972 Standard Certificate



Sample 1972 Custom Certificate
LS5 Certificate of Registration

---
Your LS5 Chevrolet must be registered in the LS5 Registry to purchase any Certificate of Registry or Toolbox/Display Case Magnet
Have or need paperwork or parts for your LS5? The Orphan page may help. Not a page to sell LS5 items as such but rather this section is to reunite paperwork or parts with the car.
Update 11/15/2015: Only those LS5 Chevrolets that are documented and have been registered by an owner will be listed. Listings are also changed to reflect date of registry entry.
LS5 Chevrolets verified and registered to date:



---


LS5 Corvette and Passenger verified and registered to date: